Wastewater Engineering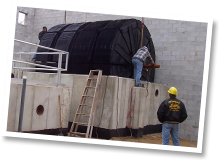 Successful wastewater collection and treatment is crucial to protecting the environment and the health and safety of our society as a whole. Engineering Technologies Corporation works on all types of wastewater engineering projects, from conception through construction. Our staff keeps current with the latest federal, state and local wastewater regulations and with the newest developments in wastewater technology and research. Some of our wastewater engineering services include:
Wastewater Treatment Plant Design and Analysis
Wastewater Pump Station Design
Sanitary Sewer System Design
Inflow & Infiltration Studies
NPDES and Groundwater Discharge Permitting
Pressure Sewer System Design
Sanitary Sewer System Modeling
Flow Monitoring Studies
Wastewater Rate Studies
Septage Receiving and Treatment Facilities
O & M Manual Preparation
Operational and Performance Studies
Onsite Septic Systems
Cluster Wastewater Systems
Municipal Wastewater Systems
ON-SITE WASTEWATER ENGINEERING
Engineering Technologies Corporation has designed and operated on-site wastewater treatment systems for many years. We offer our consulting services on a variety of on-site treatment systems, from those for individual homeowners to large commercial sites and cluster treatment systems. The common factor in all of our on-site wastewater treatment system designs is the thoughtful planning and design that goes into each project.
Site Selection
On-Site Soils Evaluation
Engineered Disposal Field Design
On-Site Wastewater Treatment System Design
Coordination with Local and State Health Officials
System Monitoring and Maintenance