Municipalities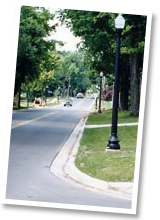 ETC's emphasis on innovative solutions to municipal challenges saves communities money. We approach problems creatively, working closely on projects with elected officials, commissions, and municipal leadership to find the most cost-effective and elegant solution, even if it's atypical for our industry. The results include more money in city budgets and taxpayer pockets, higher property values, and peace among neighbors.
If you need individualized services, we can provide them for specific needs. As an example, we provided system-wide pavement management systems for a community that had their own engineer handle other services.
We provide the following services for municipalities:
EXAMPLE PROJECT:
Handy Township
Handy Twp was faced with a difficult choice: either build a public wastewater treatment plant (WWTP) or allow a private developer to construct a small lagoon system to serve their proposed new project.
The public WWTP was determined to be most advantageous since it could serve a wider area of potential development, boosting the local economy. Engineering Technologies Corporation was selected to determine the economic viability of the project, establish a Special Assessment district, assist the project financing, and provide the design, specifications and construction assistance to complete the project. Read more >>