Homeowners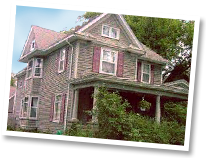 ETC maintains the same exacting standards and provides the same careful planning for the work we do for homeowners as for bigger, long-term projects for developers and municipalities. We have assisted dozens of individual property owners with a variety of projects, from soils analysis to septic systems.
ETC typically assists homeowners in two areas:
Prebuilding Site Inspection and Approval
Clients sometimes purchase rural lot splits from area farmers and landowners, hoping to construct their dream home. However, there are often challenges in obtaining approvals for on-site septic systems and wells. Safe ingress and egress can sometimes be problematic, as can overall site drainage or drainage from other adjacent properties. ETC can help you with these problems and others so your dream home becomes a reality, not a nightmare.
Existing Homes
Homeowners often come to us to help them with problems like a failing septic system, drainage issues, or driveway cracking or buckling. We can do an inspection on your property, then recommend a solution—or a contractor.
We provide the following services for homeowners: