ADA Compliance Inspection & Remediation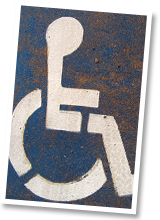 Take the following easy steps to bring your facility into American Disabilities Act (ADA) compliance:
Understand ADA compliance
Get a professional site survey
Follow through with ADA-compliant construction
Understand ADA Compliance
Since all buildings and surrounding property are required to comply with ADA regulations, failing to do so can result in lawsuits, huge fines, and costly retrofits and building improvements. You can minimize your risk and become compliant with the ADA by first consulting with ETC. We can assist you by explaining ADA requirements and how they apply to your particular situation.

Get a Professional Site Survey
ETC is available to do a professional site survey of your facilities to determine the areas where they comply with the ADA, and the areas where work is required to bring them into compliance. Don't be caught unaware; getting the site survey and the accompanying report will identify what work needs to be done to bring your facilities into compliance so you can plan for improvements.
Follow Through with ADA-Compliant Construction
Once the professional site survey has outlined what construction is required to bring your facility into ADA compliance, ETC is available to assist with the design, construction plans and specifications, bidding, and inspection of the improvements.