About ETC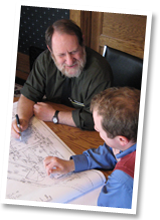 Ken Cousino founded Engineering Technologies Corporation in 1986 to meet the infrastructure needs of smaller communities and developments. Ken's diverse work and educational experiences along the way have allowed him to bring the highest level of professional expertise to ETC.
Construction Experience
Ken grew up working for his father's heavy-construction company, Cousino Construction, in the Detroit area. Until he graduated from college, Ken worked on a variety of construction crews in his father's business, including underground sewer and water-main installation crews, concrete forming and pouring crews, as well as crews for surveying and asphalt-paving.
Education and Business Building
After his graduation from the University of Michigan with a degree in civil engineering in 1974, Ken worked to build up the family business with his brothers. After his father retired in 1976, he became president of the company. With the economy in the construction industry at a low point, Cousino Construction was sold in 1980, and Ken pursued his love of civil engineering with a nationally-recognized civil engineering firm. The firm won its first national award for the project Cousino worked on while patenting his first invention. Ken was licensed as a professional engineer (P.E.) in 1981 and later studied hydraulics, transportation, and water and wastewater control systems at the graduate level.
The Founding and Development of ETC
Since ETC's founding in 1986, Ken and his team of engineers have enjoyed working for small municipalities and townships to extend sewer and water utilities and development to unserved areas. The firm has also worked to reconstruct existing infrastructure systems, and strives to provide the highest quality effective solutions at the lowest possible life cycle costs. In addition, ETC has utilized creative engineering practices for solving stormwater problems, pavement rehabilitation challenges, and failing utility systems, bringing together Ken's engineering training and construction experience. After founding ETC, Ken developed the sewer inspection and data management system SewerSpect© Software to allow cities complete, reliable data collection and management.
ETC is a family-owned and operated firm, and a number of family members who have developed their careers in civil engineering and surveying are currently providing services at ETC. The family atmosphere extends to our other staff and our clients.
Awards:
First place in the 1985 Michigan American Consulting Engineers' Council Engineering Excellence Competition
Grand prize in the 1986 National American Consulting Engineers' Council Engineering Excellence Competition (for the development of an Innovative Flow Control Device currently in use in Lansing, and the development of creative new analysis techniques used in the Lansing Sewer System Study (SSES) Michigan)
National Society of Professional Engineers – Ann Arbor Chapter 1986 Young Engineer of the Year